01.02.18 | Premiere auf der Berlinale: »Der Film verlässt das Kino«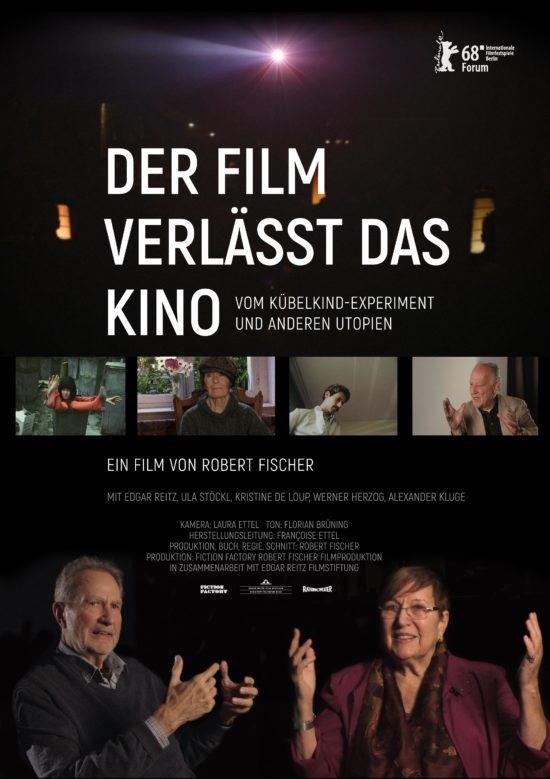 Der Filmemacher Edgar Reitz, Mitunterzeichner des Oberhause­ner Manifests und Pionier des epischen Erzählens im Film (HEIMAT), beschäftigt sich seit über einem halben Jahrhundert nicht nur in der Praxis, sondern auch als Theoretiker mit den Regeln und Grenzen des Kinos, die er auf immer neue Weise zu spren­gen und zu erweitern sucht. Ein Beispiel für sein unermüdliches Suchen und Forschen sind die 1969/70 in Co-Regie mit Ula Stöckl entstandenen GESCHICHTEN VOM KÜBELKIND, 22 abstrus-witzige, subversiv-anarchische Kurzfilme unterschiedlichster Länge, die sich ganz bewusst und mit verblüffendem Erfolg jeder Konvention widersetzten. In ihrem dadaistischen Ideenreichtum sind sie bis heute unerreicht.
Im Mittelpunkt von Robert Fischers Dokumentarfilm DER FILM VERLÄSST DAS KINO: VOM KÜBELKIND-EXPERIMENT UND ANDEREN UTOPIEN steht die Entstehungs­geschichte der wiederentdeckten und restaurierten KÜBELKIND-Geschichten. Edgar Reitz, Ula Stöckl, Werner Herzog, Alexander Kluge und weitere Filmemacher und Zeitzeugen erinnern sich an die Bedingungen, die das KÜBELKIND und ähnlich visionäre Projekte vor 50 Jahren überhaupt erst möglich machten. Sie alle bewegt die Frage: Wie wird die Zukunft des bewegten Bildes aussehen? Und: Brauchen wir überhaupt noch das Kino? Kluge sagt: »Ich gehe davon aus, dass wir das Reich der visuellen Eindrücke überhaupt nicht abgeschritten haben.«
DER FILM VERLÄSST DAS KINO wird seine Weltpremiere als Special Screening im Rahmen der Berlinale (Forum) feiern, und zwar am 17. Februar um 14 Uhr im Delphi-Kino (Wiederholung: 22.2., 17:30 Uhr, Arsenal 1). Weitere Aufführungen: 24.2., 18:30 Uhr im Metro Kinokulturhaus, Wien, und 1.3., 20 Uhr (Wiederholung: 4.3., 14 Uhr) im Filmhaus im KunstKulturQuartier, Nürnberg, jeweils in Anwesenheit von Edgar Reitz und Robert Fischer.
In 1962, Edgar Reitz (HEIMAT) co-signed the Oberhausen manifesto that set the New German Cinema in motion. In 1968, Ula Stöckl emerged as Germany's first feminist filmmaker. A year later, Stöckl and Reitz joined forces to create STORIES OF THE DUMPSTER KIND, a series of 22 hilarious, irreverent short films that have been talked about – but rarely seen – for nearly 50 years. Robert Fischer's FILM BEYOND CINEMA: THE DUMPSTER KID EXPERIMENT AND OTHER UTOPIAS is a documentary on the background and rediscovery of the DUMPSTER KID series, but also much more: Reitz and Stöckl are joined on-camera by Werner Herzog, Alexander Kluge and others to reflect on nothing less than the future of cinema.